Wireless Switch Joypad Controller for Nintendo Switch and Switch OLED with Adjustable LED Light
Ergonomic & Non-Slip Design - Ergonomic hand - fit design with Lightweight materials make wireless joycon controller game-time comfortable. Bigger button and joysticks avoid pressing other buttons by mistake. The back of joycon is designed with a special anti-skid pattern, which help increases friction and reduces the unpleasant experience caused by hand sweat to bring you the most enjoyable gaming experience.

Back Macro Button - This wireless controller has back assign button (M) which can map one of button to the rectangle(3L/3R) button during using this joycon. You can set up one of the X/Y/A/B/Z/L.....button to map it on the rectangle button, making it easier to activate hard-to-reach buttons.

Easy to Connect - This joypad controller is easy to connect, it can get a stable signal through wireless/wired connection, and automatically reconnect. Slide the controller to the switch console, the switch controller for Nintendo will automatically connect to the console, plug and play. Note: During pairing, you can't touch the joystick. After pairing is complete, please wait 5 seconds before using the controller.

8 colors LED Ring Light - Well-designed Adjustable LED ring light of 8 different colors! This is the COOLEST joycon controller has 7-colors & rainbow LED light, plus 3 different light modes: Single Colour Mode, Breathing Color changing Mode and Rainbow mode on Left and Right Controllers.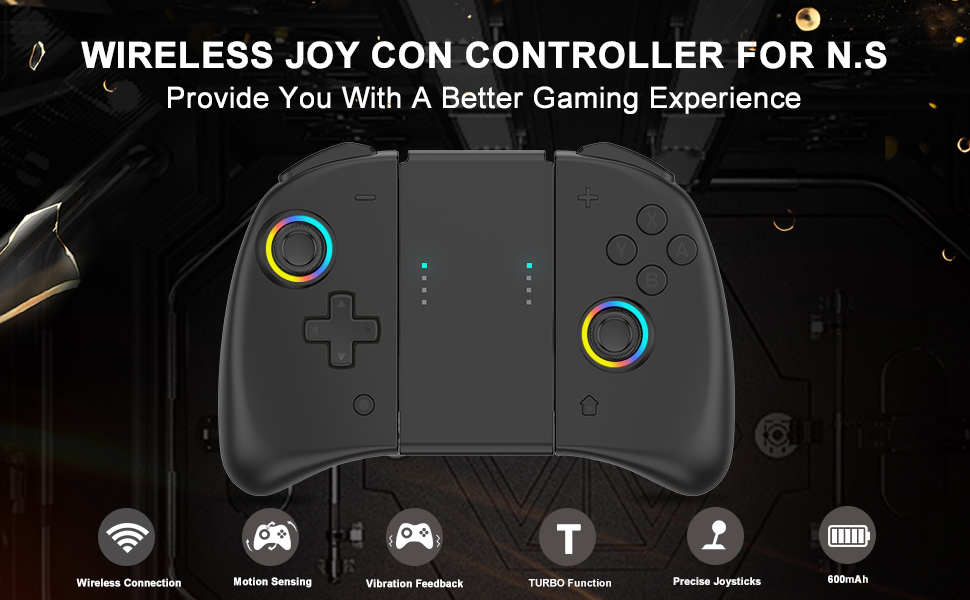 How to connect to Nintendo Switch?
A: Conventional Connection
Attaching the controllers to the console will connect them automatically The Joy-Con controllers will remain paired when you detach them from the console, and you'Il be able to use them wirelessly.
B : Bluetooth Reconnecting
Press the Home button or the Capture button to reconnect your controllers back to the console 4 LED indicators on the side will start to flash in a regular pattern as an indication of reconnecting.
How to calibrate controller joystick?
Method: After connecting to the switch, twirl the joystick 1 circles at the maximum angle to automatically complete the calibration.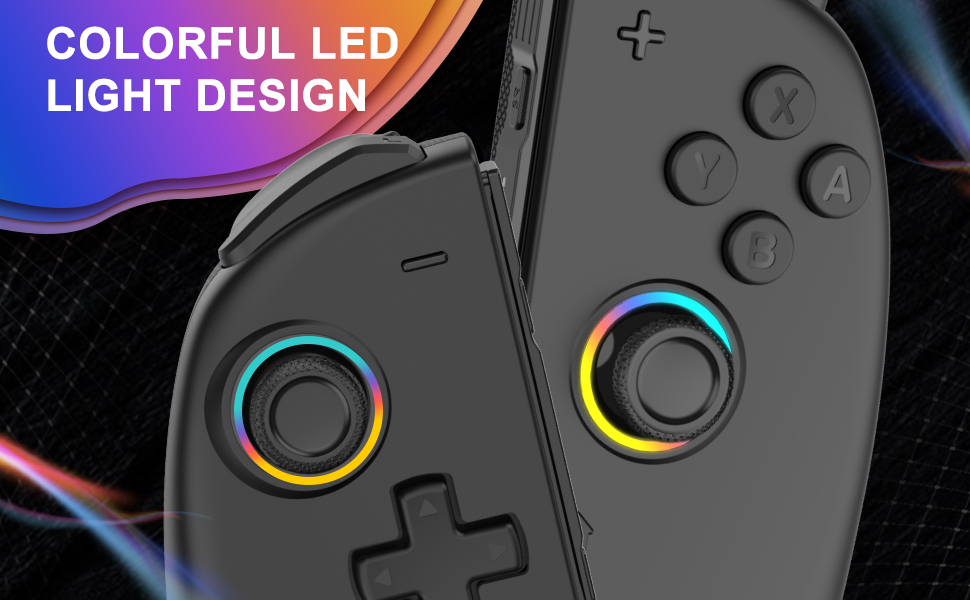 Specifications:
1.LED: 8 LED Lights & 8 Multi-Color LED lights
2.Battery: One Lithium polymer battery. 3,7V 400/mAH
3.Battery life: 2-3 hours after fully charged
4.Operating voltage: 3.7V-4.2V
5.Charging voltage: 5V
6.weight(approx): 149g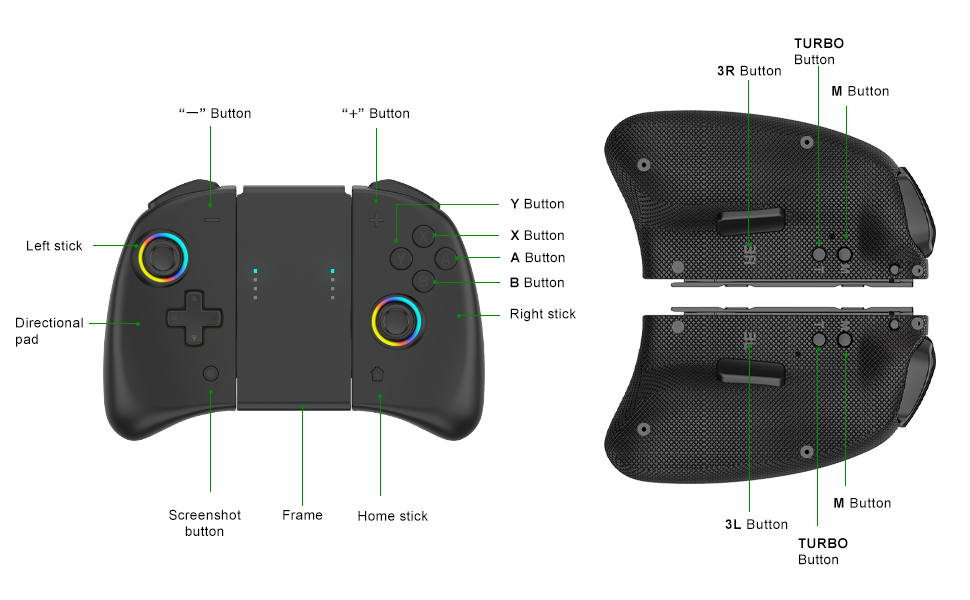 Package content:
2 x wireless controller for switch
1 x frame
1 x USB charging cable
1 x user manual
---